No one spends more time in the sun than Aussie surfers. It has been estimated that there are around 2.7 million surfers and 3 million swimmers in Australia, all spending time in the sea under the harshest sun in the world. The ozone layer above Australia is known for being less protective than other countries, which means their UV radiation is some of the strongest you will find anywhere. So… Australian skincare tips are a little different from the rest of the world! 
At Face Dr Australia, our Skin Experts offer online skincare consultations in Australia, as well as medical grade skincare from ZO Skin Health Australia
Here, we're looking at the advice from some of the best Australian surfers to see how they protect their skin while catching those waves.   
Want to speak to an expert about sun protection? Book an appointment with one of our Skin Experts here:
Here's what we'll cover in this article:
What kind of sunscreen to apply 

What else you can do to protect your skin 

What factor of sunscreen is best for your skin 

How often to apply sunscreen

What to do if you get burnt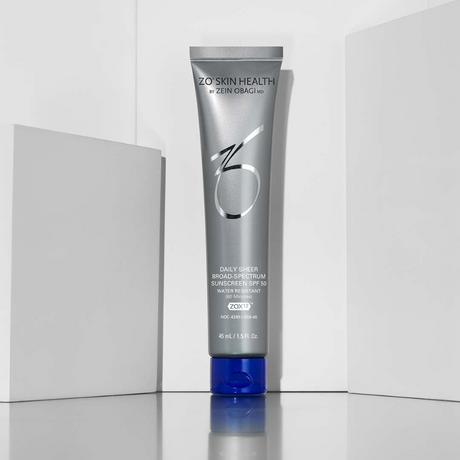 1. Wear a Water Resistant Sunscreen 
Sunscreen is an absolute must in Australia, and anywhere else you are exposed to the sun. Plus, studies have found the prevalence of melanoma skin cancers is 76-fold higher for surfers and swimmers in Australia than the general Australian population, which proves the importance of skin protection when exposed to sun. 
"The best type of sunscreen for surfers is very water resistant, gives UVA and UVB protection, and ideally contains non-nano zinc oxide and/or titanium dioxide." 
– Andrew Norton via SurferDad.co.uk
Most regular sunscreen products will wash off in a pool or in the sea, or even while sweating in the heat. Choosing a water resistant sunscreen and remembering to reapply will ensure skin has the best chance of avoiding damage. 
Our product pick: ZO Daily Sheer Broad-Spectrum SPF 50 protects against UVA and UVB light and is water and perspiration resistant for up to 80 minutes of water exposure.
If you are unsure which sunscreen product offers the best protection for you, your Skin Expert can help. 
2. Cover Up
If you are unlikely to get the chance to reapply as much as you want to, you regularly miss certain areas of your body, or you are trying to protect children outdoors, sometimes the best option is to cover up as much as possible. It's not always the most favorable option since the sun can make us feel hot, but covering as much of your skin as you can with light, sun-blocking layers will help avoid sun damage.
If you love being in water, opt for a wetsuit or long-sleeved clothing. You may also benefit from a cap to protect your scalp and face, or a wide hat to cover the back of your neck, and polarised sunglasses that block UV rays. 
If you can cover up, great. If not, or if any skin is exposed, slather on sunscreen. 
"At the end of the day, wearing hats and long-sleeved clothing is really the best answer to sun protection. But I love surfing in bikinis, so I do need sunscreen." 
– Australian surfing champion Stephanie Gilmore via Elle
3. Use Sunscreen With A High Factor 
There are many reasons to use sunscreen, including: 
To avoid sunburn, which can be painful

To prevent early signs of skin ageing, such as fine lines and wrinkles 

To prevent hyperpigmentation and sun spots developing on skin

To protect skin from damage and skin cancer (

here's how to check your skin for cancer

)
There are many different levels of protection to choose from, but the higher, the better. SPF below factor 15 is considered to be low protection; SPF 15 to 29 is considered medium protection; SPF 30 to 49 is considered high protection, and SPF 50+ is considered very high protection. Our Skin Experts recommend at least SPF 30 for high protection, and surfers tend to agree. 
"Spending most of my life in the ocean and sun has taught me so much about caring for my skin and hair... I'm constantly moisturizing, conditioning, hydrating, and protecting my skin however I can… before surfing, I apply a 30+ zinc foundation…" 
– Australian pro surfer Laura Enever via Refinery29
Remember, even without getting a red sunburn after being in the sun, your skin can still be damaged from exposure to UVA rays. If you would like to learn more about what kind of sunscreen product might be best for you, this article shares more; Mineral, physical and chemical sunscreens — What's the difference?
Our product pick: ZO Gel Sunscreen Broad-Spectrum SPF 50 offers high protection from sun exposure, and is designed with Triple Spectrum Protection against UVA, UVB, HEV Blue light and IR-A rays.
Our Skin Experts can recommend the best sun protection products from ZO Skin Health's new SPF 50 sunscreen range and beyond. 
4. Don't Forget Those Easy-To-Miss Spots 
We've all done it; you apply your sunscreen, but end up with little red patches in the areas you missed. It can be so easy to skip areas of your body that you don't think will be exposed to sun. This could be the: 
Scalp and around the hairline 

Tops of the ears

Lips and nose  

Back of the neck 

Back of your hands 

Tops of your feet 

Backs of your knees

Around the edges of your swimming costume

Under your arms 
We all have easy-to-miss spots that get burned because we forgot to apply sunscreen, or because it rubs off more easily than other places. Carry sunscreen around with you, and don't forget to top up smaller areas so they get the same protection as the rest of your body. If you are concerned about avoiding the signs of premature skin ageing, such as fine lines and wrinkles, you may also choose to top up your facial sunscreen more regularly. 
Our product pick
:
ZO Smart Tone Broad-Spectrum SPF 50
has an exclusive 12-hour time-release antioxidant complex to guard against the appearance of photodamage.
5. Apply Frequently 
The Cancer Council in Australia recommends applying sunscreen 20 minutes before going outdoors, and using AT LEAST:
One teaspoon per limb

One teaspoon for the front of your body

One teaspoon for the back of your body

One teaspoon for the head
For an adult, a full body application should use at least 35ml (7 teaspoons) worth of sunscreen, but many people choose to use even more. The Cancer Council also recommends reapplying sunscreen every two hours if you are going outdoors, and more often if you are sweating and spending time in water.
"The best thing with sunscreen is to apply it at least 15 to 20 minutes before you get in the water. On surf trips, a lot of those sticks work the best… You can keep that in your boardshorts and just periodically put it on your lips, face, nose, cheeks, ears, and anywhere that gets a lot of sun." 
– Dr. Chris Carlin, Dermatologist and Surfer via Surfline
6. Treat Sunburn Right Away 
Sunburn is, in some cases, unavoidable. We should always do our very best to protect skin from it, but in reality, sometimes sunburn happens. If you end up with patches of sunburn, it's best to treat them immediately to cool, calm and repair your skin. 
Drink lots of water to replenish your skin's hydration, and continue to do this as your skin heals. Plus, opt for a thoroughly moisturising cream to replenish the lost moisture from your skin and soothe it until it returns to your usual skin colour. 
Our product pick: ZO Hydrating Crème helps to support skin barrier restoration which is perfect for sunburnt skin. It helps to reduce itching, boost hydration and calm redness.
7. Cleanse and Hydrate After a Surf Session
Remember to give your skin some TLC after a hard day bobbing in salt water beneath the intense Australian sun. Finish your day off with a gentle cleansing product to remove any leftover sunscreen (here's our handy guide to double cleansing to get every last bit of sunscreen off!) and a hydrating product to replenish any lost moisture, restore your skin's oils, and calm any irritation. 
Our product picks: ZO Gentle Cleanser is the perfect post-surf cleanse to gently remove makeup and impurities without drying out the skin, and promote hydration. Plus, it's soothing on skin, which is exactly what you need after a day in the sun. 
ZO Daily Power Defense is a great hydrator and serum to protect skin from free radical damage after sun exposure, and provides a small amount of retinol to promote skin cell turnover. If you are typically in the sun daily, a retinol-free product such as ZO Brightalive® Skin Brightener may be a better option, as retinol products can make skin more sensitive.
There are so many products out there to help you keep skin protected during sun exposure, and nourished afterwards, too. Your Skin Expert can point you in the right direction if you would like advice on the best options for you. 
"People need to realise you can still be in the sun, it's not about shutting up shop and saying 'I'm not going to go out'. It's about finding ways to be outside while also being protected." – Australian pro surfer Sally Fitzgibbons via Nine.com.au
If you are worried about sun exposure and the possibility of skin cancer, it is best to get a check-up with a skincare professional or your doctor to ensure your skin is as healthy as it can be. If you notice any abnormalities or changes in your skin, always seek advice from a medical professional, and if you live in Australia, get regular preventative check-ups. 

If you have any questions about how to keep your skin protected long-term, you can book a free video call with one of our Skin Experts to discuss and purchase the best products to keep your skin looking great and feeling safe. Book a consultation with your Skin Expert here:
Want to read more from our blog? Here are some articles that may interest you: